...oh what can it mean?

Daydream Believer is a classic song that will be remembered for a very long time.

I'll admit that as a boy I was fascinated with the Monkees. I actually was more fascinated with the girls that were fascinated with the Monkees. I must have been about 12 or 13 when they appeared on television. At that time I was in a garage band. We qualified as an official garage band since we actually rehearsed in a garage. I figured being in a garage band would be an excellent way to meet girls. Mostly what I met were other guys in garage bands. Oh yeah, I also met lots of beer-breathed jocks that would grab the microphone off the stage and launch into Nah-nah-nah-nah, hey-hey Good-bye.


My old buddy Stew Williams (former radio guy from Charleston SC) insisted we learn some of the Monkee's songs as he thought this would be a great way to impress girls. (See above comments)

The string section and horn arrangement of Daydream Believer was a little over the top for a 4 piece garage band, so I don't think it appeared in our repetoire. None-the-less this song still remains a favorite of mine.


The song was written by John Stewart. Of course this was not John Stewart the TV comedian, but John Stewart the folksinger/songwriter, formerly of the Kingston Trio. He replaced Dave Guard when Dave left the group back in 1961.


Stewart's relationship with the the Kingston Trio lasted until around 1964 when he left. John states that he wrote this song just before leaving the trio. I've searched high and low for hidden meanings in the lyrics, but I can find none. It is just a nice song about being poor and being in love. Which is something most of us can relate to at one time or another.


Daydream Believer was recorded by the Monkees in 1967. It became their last #1 single.
At the time of the recording Davy Jones states that he was feeling somewhat tired.

He is quoted in the biograpy Monkeemania, "We'd done twelve songs and the thirteenth was Daydream Believer. I said,'That's terrible.' I was a baritone and it was in the wrong key for my voice. I'd been in the studio all day, I was tired and I'm singing these same words about twelve times...Hank Cicalo, the engineer, had his own way of numbering takes so he could find them, he'd call them 1A or 2A, like that. Anyway, all of a sudden he says '7A' over the talkback and I wasn't listening so I said 'What number is this?' and they said '7A!' in unison. That kicked me on a bit and I got it down but you can tell from the vocal that I was pissed off."

You can hear the talkback on the LP version of the song.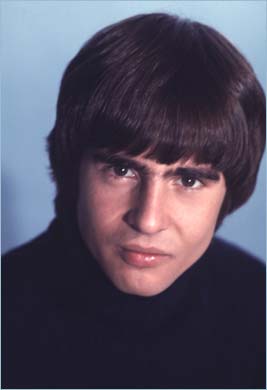 Davy went on to say in a commentary track on Season 2 of the series that he didn't like the song originally and thought it should be cut from the album. Of course he's now glad that it stayed and that it has since brought him a lot of joy.

The only major lyric change the Monkees made to the song was in the second verse. The original verse as written by Stewart was, "You once thought of me as a white knight on a steed. Now you know how funky I can be." The word funky was changed to happy.



In an interview Stewart explains his lyrics;

"(The boy is) A dreamer in school, he still is. He is a dreamer and thinks about new worlds, change, and other things to do. And (his girl) she was the home-coming queen, she was the beauty of the school before she married him. And now we have an American life. It doesn't matter if you are the home-coming queen, you are now husband and wife. He's got to make the money, and is saying let us just make the best of it, you know. You once thought of me as a white knight on his steed, which obviously was before, but now you know how funky I can be, which was, you know, I'm just a guy who leaves his socks on the TV. But our good times start and end without a dollar one to spend, but how much, baby, do we really need? You know, it's not the money, it's us. Cheer up, sleepy Jean. And to me, it was very clear in my own A.D.D. mind."


I think the elements that make this song so great are not just the lyrics, but the melody and the great orchestral arrangement. The Beatles had come out with Penny Lane that included a picolo trumpet part.


I'm certain the producer, Chip Douglas (not the kid from My Three Sons) and the arranger had this in mind when writing the score and including that wonderful trumpet descant.

The Monkees recorded this song in a period when they decided to take over their own artistic affairs, so all four of them played instruments on this record. Mike Nesmith on guitar, Peter Tork on piano and Mickey Dolenz sang backing vocal with Davy Jones doing the vocal.

(If any of my children read this, ask your Momma about running into Mike Nesmith)

The typical method during this era was to lay down the basic track, guitar, bass, drums, piano, vocals and then send it off to another studio for sweetening (adding string arrangements). From reading commentary about this song, I am guessing that is what took place.


John Stewart went on to write over 600 songs before his death last year. After the trio, he teamed up with John Denver. His only other one that became a #1 hit was a song called Gold that he sang as a duet with Stevie Nicks.

Here is John Stewart singing Daydream Believer that way he wrote it.
http://www.youtube.com/watch?v=JFRCnuO4c7Q&feature=related