This show was done in a era that was rife with Cowboy shows and I watched every one of them. The Rifleman, with Chuck Connor and Johnny Crawford was one of my favorites. I still watch episodes on the ME channel.
As an adult I have grown to appreciate the fine writing and plots of the series. Although it always seems to be broken down to McCain or his son spotting trouble, McCain stepping in to prevent the trouble and finally solving the problem by rapidly shooting off his gun.
Now the Rifleman's choice of firearm is a Winchester model 1892 rifle that he always carried. One of the show's faults is McCain's trademark gun had not actually been offered for sale in the 1880's.
During this era of cowboy shows, the stars all had to have a gimmick gun (something John Wayne capitalized upon.) McCain, we are told had his rifle modified by using a large loop lever that he frequently uses to swing his rifle around to cock it. (How he avoided shooting himself in the armpit for all those years, we will never know.) The gun also had a screw pin in the lever that would push the trigger each time McCain lowered and raised the lever, thus allowing to rapidly fire a succession of bullets in seconds. The trigger-trip screw pin was used in two configurations: with the screw head turned inside (close to the trigger) or, more often, outside the trigger guard with a locknut on the outside (to secure its position). In some episodes the screw was removed, when rapid-fire action was not required.
In the opening scene of each episode, Lucas McCain preforms a feat that is totally unbelievable. He fires off 12 shots in rapid succession from an 11 round rifle. To aid in syncing up the soundtrack to the theme, a 13th shot was added. When questioned, the shows producers attribute this to echo.
Several versions of this rifle appeared throughout the series. One had a flatter loop for the lever and the other had a D-shaped version. Some rifles had a saddle ring while other did not.
This rifle was a top eject model. I always wondered if it was Mark's job (Johnny Crawford) to sweep up the street for stray shell casings after his father offed a baddy.
Every episode feature Connor's dramatically twirling the gun around to cock it though means of the large loop/lever. This was not possible on an actual model 1892, because the bullets would spill out. So the show's technical people installed a spring-loaded plunger to prevent this from happening.
Once again, the writing was first rate for this era. A common thread in the series is that people deserve a second chance; Marshal Micah Torrance is a recovering alcoholic, and McCain gives a convict a job on his ranch. Lucas takes in a father and son grifter and teaches them a lesson, a cruel teacher at Mark's school is tamed and then becomes a great guy. The lessons throughout the plot deal with McCain teaching his son Mark about life.
According to the backstory McCain had a reputation in the Indian Territories of Oklahoma, where he first acquired the nickname "the Rifleman" and where Lucas' wife died in a smallpox epidemic. One of the show's creators was famed director Sam Peckinpah.
The show is done in glorious black and white, from a day when colour televisions were scarce of non-existant. It ran from 1958 to 1963.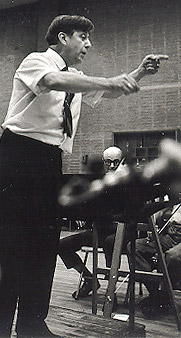 Hershel Burke Gilbert
One of the best features of the Rifleman is it's wonderful theme song. In those days, every TV show had to have it's own recognizable theme song. The song was written by Herschel Burke Gilbert and copywritten by ASCAP. I had no idea the song had any lyrics, but here they are written by Alfred Perry. Gilbert composed all the background music used in the show and was a fantastic tunesmith.
"THE RIFLEMAN"
HE IS NO STRANGER TO THE SETTLERS
AND THE BAD MEN KNOW HIS FAME
THEY SPEAK OF HIM IN WHISPERS
BUT THEY NEVER USE HIS NAME
THEY CALL HIM THE RIFLEMAN,
THE STRONG, COURAGEOUS RIFLEMAN
A GREAT BIG MOUNTAIN OF A MAN.
HE NEVER REACHES FOR HIS RIFLE
EXCEPT WHEN HE'S ATTACKED.
HE RECKONS THERE'S A TIME TO SPEAK
AND THERE'S A TIME TO ACT.
CHORUS
THEY KNOW THAT WHEN IT COMES TO
MARKSMANSHIP
HE'S BETTER THAN THE BEST.
STILL, SOME-ONE'S ALWAY FOOL
ENOUGH TO PUT HIM TO THE TEST.
CHORUS
TO EVERY LAD WHO COMES TO HIM
TO LEARN THE SECRET OF HIS ART
HE TELLS THEM THERE'S NO MEDICINE
TO HEAL A COWARD'S HEART.
CHORUS
THERE IS A MORAL TO HIS EXPLOITS
AND HE'S TAUGHT IT TO HIS SON
SPEAK SOFTLY TO YOUR ENEMY
BUT LET HIM SEE YOUR GUN!
I just recently found these lyrics, which are much more keeping in the theme of the show than the lyrics that I had created.
With apology to Misters Gilbert and Perry and the ASCAP organization, I present my parody lyrics.
HE HAS A RIFLE
AND HE SHOOTS IT EVERYWHERE
HE SHOOTS IT IN THE STREETS OF TOWN
HE SHOOTS IT IN THE AIR.
HE HAD TO SHOOT HIS WIFE,
SHE DID NOT UNDERSTAND,
THAT HE IS THE RIFLE-RIFLEMAN
HE HAS A RIFLE AND
HE DEARLY LOVES THAT GUN.
HE SHOOTS IT WHEN HE'S ANGRY
HE SHOOTS IT JUST FOR FUN.
HE HAS A BOY NAMED MARK
HE ALWAYS TAKES AIM ON HIS MARK,
'CAUSE HE IS THE RIFLE-RIFLEMAN.
YES HE IS THE RIFLE-RIFLEMAN.