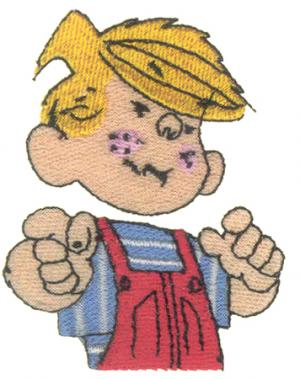 As a child,

Hank Ketchum was so fascinated by one of his father's friends that was an illustrator, he began taking lessons from this gentleman at an early age. As an adult, his talent developed and he landed a job working for Walter Lantz Studios, the company that produced several different popular cartoons, the most famous being Woody Woodpecker. Later Ketchum was hired as an illustrator for Disney and worked on several of their many animated features.


After a stint in the US Naval Reserve in WWII, he married a lady named Alice Mahar and in 1951 started work on a comic strip about his 4 year old son, Dennis.

His wife provided the inspiration for the cartoon when one day she burst into her husband's studio complaining that his son had wrecked his bedroom instead of taking a nap and loudly proclaimed "Your son is a menace." Dennis the Menace still graces the pages of the local newspaper as a syndicated comic strip even though Ketchum died in 2001. It continues through the work of his assistants Marcus Hamilton and Ronald Ferdinand.



What is sad is the real Dennis Ketchum did not lead the storybook life portrayed in the comic strip, the TV show or the movies. His mother, Alice Ketchum was an alcoholic. Hank Ketchum was too busy to deal with a young son and Dennis had learning difficulties. The parents divorced and Dennis was sent to a boarding school in Switzerland. His mother died of an accidental drug overdose at age 41. Hank Ketchum had remarried but did not raise the boy. Because of difficulty at the Swiss boarding school, Ketchum placed Dennis in a boarding school in the United States.

Dennis Ketchum joined the Marine Corp after graduating from high school and fought in Viet Nam. Upon his return from combat he went through a series of low paying jobs. He was married, divorced and as became estranged from his own daughter.


Yet since 1951 the mischievous four year old has never gotten older, nor has his mother, Alice or his father Henry (Hank). They still live in a white frame house surrounded by a picket fence with the lovable family dog, Ruff. Dennis' parents are very much in love. In fact the pages of the comic are examples of Americana circa 1950.

Through his comic strip fantasy, Hank Ketchum became a millionaire and started a new family, all the while ignoring reality.