This phrase goes farther back than I imagined. I recall being told that it was associated with the 1960's Brill Building songwriters, such as Neil Diamond, Carole King and Gerry Goffin, Barry Mann & Cynthia Weil, Jerry Leiber and Mike Stoller and Burt Bacharach and Hal David. However the Brill Building was home to 165 music publishing companies, all of which were looking for that brand new song to sell.
Prior to the above named writers, many publishers of 1940's Big Band works called the Brill Building home.
During the Great Depression, the owners of the Brill Building were desperate for income and rented office space to song publishers, who before usually worked in lower Manahattan's Tin Pan Alley.
Getting to the topic; The phrase Old Grey Whistle Test was coined to predict the popularity of a song.
As the story goes, older people took night jobs cleaning offices. These maintenance workers arrived at around 5 PM when the daytime staff was leaving.
From time to time they would hear a song demo from a recording or hear some songwriters working on a song. If a writer or publisher heard a cleaning person whistling one of the tunes, that was a sure sign it was catchy. So it passed the Old Grey Whistle Test.
I've read about this story being associated with the Brill Building and also with London's Denmark Street music publishing businesses.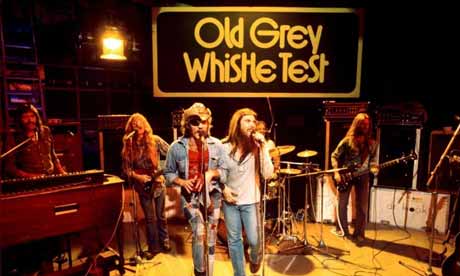 The other definition of The Old Grey Whistle Test refers to an influential television music show on the BBC that ran from 1971 to 1987. The show derived it's name from the aforementioned legend.
Here is a clip from The Old Grey Whistle Test Show